Ambiheat HDc-270 Heavy Duty Heat Pump Hot Water System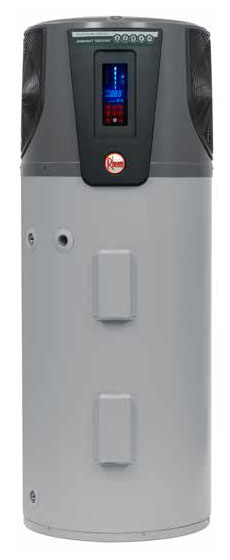 AMBIHEAT HDc-270 Heat Pump is a smart, energy efficient alternative for areas where a traditional solar water heater may not be suitable. It uses the heat from the surrounding air, to heat your water and provides a reliable, efficient and sustainable way to reduce your water heating energy consumption. A Heat Pump works day and night as it extracts heat from the surrounding air and doesn't rely on direct sunlight to operate.
FEATURES
• Advanced wrap around microchannel heating technology for uniform and faster water heating
• Suitable for cold climates with an operating range from -5°C to +43°C
• Suitable for harsh water conditions2
• Save up to 68% on your water heating energy consumption compared to an electric water heater in Zone 33
• High recovery rate
• 2.4kW back-up element
• User-friendly touch screen LED display
• Eligible for Government Incentives
• 7 year cylinder warranty
• Suitable for 2 to 5 people

AMBIHEAT Heat Pump has been designed and tested to
withstand the harsh Australian conditions:
Enamel lined water tank: The enamel coating reduces the
risk of corrosion and water leakage.
Microchannel technology: Provide a larger contact area for
more efficient water heating.
Side fan design: Design specially developed to protect the
unit from rain.
Durable top cover: With its durable ASA top cover*, the unit
can easily withstand all weather conditions.
Smart LED controller display: A bright interactive LED
touchscreen display putting control at your fingertips.
MODEL
UNIT
HDc-270
System
551270
Storage capacity
litres
270
Boost capacity
litres
195
Rated heat pump power input
watts
985
Element rating
kW
2.4
Coefficient of Performance (COP)*
4.5
People per household
2 to 5
Dimensions & specifications
Tank height (A)
mm
1825
Tank width (B)
mm
730
Tank depth (C)
mm
760
System weight – empty
kg
136
System weight – full
kg
306
Refrigerant
R134a
Water connections & settings
Inlet
RP 3/4
Outlet
RP 3/4
Temp Press Relief (TPR) Valve setting
kPa
1000
Expansion Control Valve (ECV) setting
kPa
850
Maximum mains supply pressure
With expansion control valve
kPa
680
Without expansion control valve
kPa
800