Evoheat 270 Heat Pump Hot Water System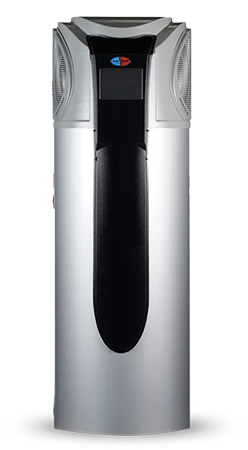 The EVO 270 is the next evolution in water heating, with advanced energy efficiency technologies and built in smart features to ensure you're provided with clean, safe, and economical hot water all year round. Unlike traditional hot water systems that use 1kW of energy to produce 1kW of heat, the EVO 270 utilises that very same 1kW of energy and heat pump technology to generate 4kW of heat – saving you up to 75% of your hot water costs!
Save up to 75% on your hot water costs
Hot water up to 60°C
Air operation range from -7°C to 43°C
Extremely energy efficient
Simple to install
Hydro power booster
Genus control and built-in timer
Vacation mode
Registered with the Australian Federal Government Clean Energy Regulator as an energy efficient water heater

SLEEK DESIGN, SIMPLE TO INSTALL
The EvoHeat 270 is a stylish compact all in one system, measuring just 640mm in diameter. There are no roof panels, no additional components to assemble on site, and no extra parts or pipes required. This results in a simple and cost effective upgrade when installed to the same location as your existing water heater.
IDEAL FOR ANY HOUSEHOLD & COMMERCIAL APPLICATIONS
Compact in size, yet powerful enough to supply hot water for up to six people in a domestic application, and is equally at home for use in many commercial applications such as in resorts, hotels and motels, restaurants and retail outlets.
HYDRO POWER BOOSTER
Get more for your money from your hot water system. The EvoHeat 270 can produce up to 105 litres of hot water per hour with our Hydro Power Boost function. This means a never-ending stream of up to 70°C hot water – even when it's below freezing outside.
GENUS CONTROL & BUILT-IN TIMER
Take control of your hot water with our intelligent touch pad and built-in timer. Govern when and for how long your system operates to make the most of off-peak energy tariffs or your own created energy via your PV Solar Power System.
VACATION MODE
Further increase the efficiency of your system by eliminating unnesessary heating whist you are away, and program it to re-active before you arrive home to ensure there is oht water on tap, the moment you walk in the door!
| | |
| --- | --- |
| Storage Capacity | 270L |
| Max Temperature Setting | 70°C |
| Power Input | 0.94kW |
| Heating Output | 3.4kW |
| Noise Rating | 46dB (A) |
| Running Current | 3.92A |
| Power Supply | 240V/1/50Hz |
| Air Volume | 450m3/h |
| Water Inlet/Outlet Size | 20mm (3/4″) |
| Auxiliary Heating | 1.5kW |
| Operating Temperature Range | -7°C to 43°C |
| Net Weight | 135kg |
| Hot Water Recovery | 75L/hr |
| With Hydro Boost | 105L/hr |