AquaMAX Hot Water
Call: (08) 8444 7311
Reduce your energy expenses by as much as 50% telephone Adelaide Hot Water today!
AquaMAX Gas Storage Hot Water Systems
AquaMAX Electric Hot Water Systems
The AquaMAX electric hot water heaters offer mains pressure hot water with flexible delivery to any family, big or small. The AquaMAX electric water heaters are tough enough for even the most demanding of family households. The MAXI-namel lining with a sacrificial anode not only ensures a reliable source of hot water all year round, but they can be installed either inside or out thanks to their tough colourbond casing. Ask your Adelaide plumber about your installation options.
AquaMAX Solar Hot Water Systems
Harness the free power of the sun with the AquaMAX solar hot water systems. They offer award winning gas and electric boosted solar hot water systems.
Adelaide Hot Water installs the AquaMAX solar hot water heaters in a wide range of tank and solar panel configurations. AquaMAX solar water heaters deliver energy efficient, solar heated, mains pressure hot water with a significant saving in your energy bills and to the environment.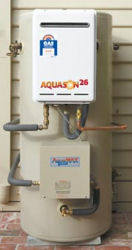 AquaSUN Gas boosted continuous flow systems offer an unlimited supply of hot water no matter what the demand.
Available in wall mounted (WM) and 'piggyback'-tank mounted (PB) configurations, each system comprises a continuous flow gas water heater, a vitreous enamel storage tank, a solar controller/pump and solar panels as displayed below.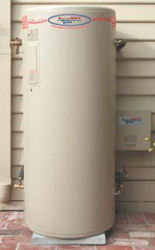 AquaMAX electric boosted solar hot water systems offer vastly improved energy efficiency in water heating especially where installation issues make electricity the better or the only water heating option. Manufactured to suit the specific conditions that you live in, AquaMAX electric hot water heaters are available to suit your specific requirements. Available in a number of tank capacities each system requires an electric water heater, a solar controller and solar panels with the options displayed below.
Adelaide Areas Covered
Adelaide Hot Water install AquaMAX hot water systems in and around the Adelaide area. Looking for a AquaMAX plumber in Adelaide? Need to fix your AquaMAX hot water system? Adelaide Hot Water are hot water plumbers offering AquaMAX plumbing services in South Adelaide, North Adelaide, Central Adelaide, West Adelaide and East Adelaide. Adelaide Hot Water also provide new AquaMAX hot water systems in Adelaide suburbs, Adelaide metro regions, Adelaide hills, and the Adelaide local country area.
(3 votes, average: 5.00 out of 5)

Loading...