Rheem Gas
Call: (08) 8444 7311
Reduce your energy expenses by as much as 50% telephone Adelaide Hot Water today!
Rheem Continuous Flow Systems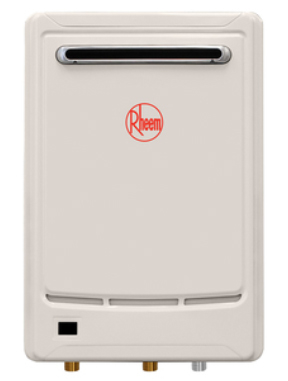 Rheem Metro Gas Continuous Flow Water Heater : 60°C
The Rheem Metro Continuous Flow gas water heater is a space-saving solution for medium-sized households. This compact model provides a constant supply of hot water, making it ideal for apartments and townhouses with limited space.
Continuous hot water when you need it
Continuous Flow gas water heaters deliver hot water that will
never run out because they heat water when you need it, for
as long as you need it.
Continuous Flow water heaters work differently from storage water
heaters, only heating on demand rather than heating and storing
water until needed. Mounted to the wall and taking up less space,
they are ideal for a compact home site or apartment.
Factors to consider in determining your hot water needs:
Number of bathrooms or people using hot water at once.
Adults and children in the home (teenagers will use more hot
water than young children).
Your needs may also depend on the climate and water
pressure.
Gas Hot Water Systems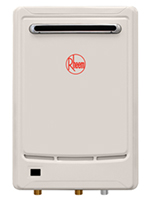 Rheem Metro 16L Gas Continuous Flow
Water Heater : 60°C
16L/min hot water flow, 1.5 baths
60°C temp limit, compact size
Flamesafe® prevents overheating
Rapid, consistent hot water with Rheem Q Factor™
Remote temperature control
Natural gas/propane options available
Natural gas and propane models available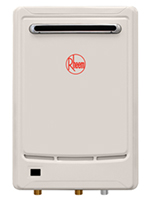 Rheem 20L Gas Continuous Flow Water
Water Heater : 60°C
60°C temp limit, 20L/min hot water flow, 2 baths
Compact size, Flamesafe® prevents overheating
Rapid, consistent hot water with Rheem Q Factor™
Remote temperature control
Natural gas/propane options available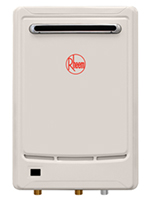 Rheem Metro 26L Gas Continuous Flow
Water Heater : 60°C
26L/min hot water flow, 2-2.5 baths
Compact size, Flamesafe® prevents overheating
Rapid, consistent hot water with Rheem Q Factor™
Remote temperature control, 50°C temp limit models available
60°C hot water for kitchen/laundry, 10-year warranty on heat exchanger
Natural gas/propane options available