Service and Repairs
Call: (08) 8444 7311
Reduce your energy expenses by as much as 50% telephone Adelaide Hot Water today!
Hot Water Repairs

Having no hot water is no joke! When all of a sudden there's no hot water in the taps it can be an unpleasant surprise. It's not until it's not there you learn how dependant you are on it. Not to mention the damage burst pipes or a leaking hot water tank can do.
Do you need an emergency Adelaide plumber?
When you need an emergency plumber Adelaide Hot Water TM are ready to come to your rescue. Adelaide Hot Water TM have a team of licensed gas fitters and plumbers throughout the Adelaide metro, Adelaide suburbs and local Adelaide country regions. We are here to provide you with a quick service, repair or replace your broken hot water system.
Adelaide Hot Water has qualified technicians that are able to come out to you and repair or replace your current hot water system in a fast efficient manner and we can do it at a convenient time to you.
Repair or replace your hot water system?
Adelaide Hot Water can offer advice on how you can reduce your energy bills by updating your current hot water tank. Maybe it is time for a change. Old electric hot water systems are inefficient and cost more to run. Is it time to swap to a new solar hot water heater? Just think of the money you could be saving month after month on your current energy bills and you may be eligible for government rebates.
Solar hot water systems can supply up to 90% of all your household hot water needs with very little greenhouse gas emissions. Save your wallet and the planet with a new energy efficient hot water system from Adelaide Hot Water. It's good for the environment and good for you as it saves money on what can be one of the biggest household bills. Call Adelaide Hot Water TM today on (08) 8444 7311 for all your hot water plumbing needs at affordable prices.
We are the best Adelaide plumbers for quality and reliability. With Adelaide Hot Water TM plumbers and gas fitters located throughout Adelaide metro and outer Adelaide suburbs, you can be sure of quick service no matter where you live. Our local Adelaide technicians are available from Victor Harbour to the Barossa, from West Beach to the Adelaide Hills.
Adelaide Hot Water TM Service & Repair Hot Water Systems in all areas of Metropolitan Adelaide.
We Service & Repair the following hot water brands: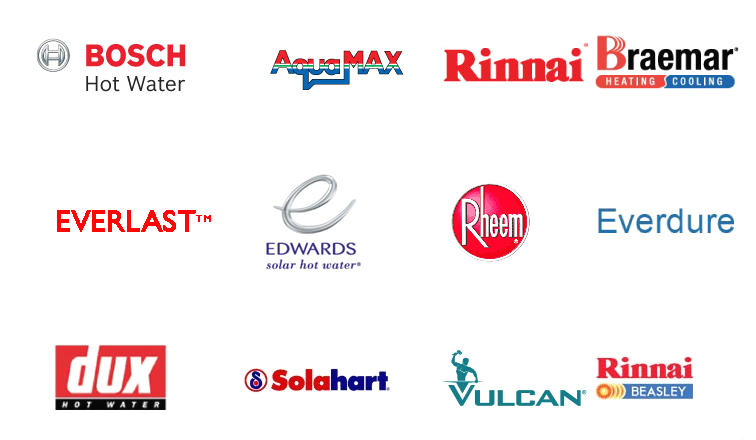 Adelaide Plumbers
Looking for an Adelaide plumber to fix your hot water? Adelaide Hot Water are Adelaide plumbers in and around the Adelaide area. Looking for an emergency Adelaide plumber? Need a plumber to fix your hot water system? Adelaide Hot Water are hot water plumbing specialists offering hot water services in South Adelaide, North Adelaide, Central Adelaide, West Adelaide and East Adelaide. Adelaide Hot Water also provide new hot water systems in Adelaide suburbs, Adelaide metro regions, Adelaide hills, and the Adelaide local country area.